Intermediate result from partner SIEMENS, ULille, VUB, UTCN, Renault
This result has been achieved on 20 March 2020 in month 16 of the project.
EMR models of the entire BEV build based on the EMR models of each individual structural component. By simply connecting BEV components using the method "pug & play", EMR models of the entire BEV was build.
Objective: The objectiv is to virtual test the BEVs based on Renault Zoe data where models of batteries and e-drive developed by VUB and UTCN are combined with vehicule dynamics models developed by SISW using data from RTR.
Result: Different EMR Simcenter Amesim BEV models builded using the prebuilt vehicle component models and simulated in Simcenter Amesim.
What will it be used for: The models will be used to test different driving situations, to analyze a wide variety of boundary conditions and to perform real-time simulation in local and Cloud.
Impact: By integrated new batteryes and e-drives in a BEV models, system components will be tested and validated.

Figure 1: Components interconnections variables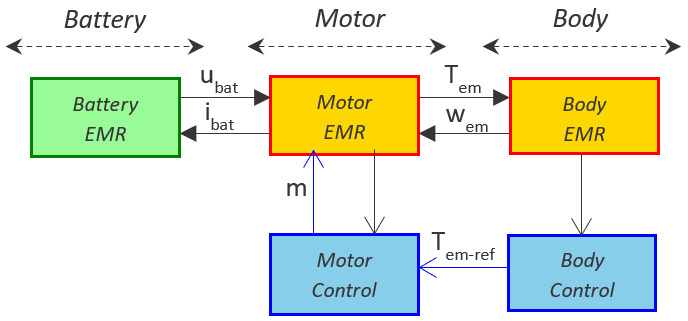 Figure 2: BEV organization

Figure 3: BEV model